Dua lagi reading challenge yang akan saya ikuti ditahun 2014. Keduanya diselenggarakan oleh Mbak Maria Hobby Buku, yaitu TBRR Pile Reading Challenge dan Mistery Book's Club Reading Challenge. Berikut penjelasan buat kedua reading challenge ini :
1.

TBRR Reading Challenge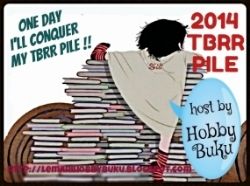 Punya penyakit suka numpuk buku? Hmm... kalo ngaku kutu buku, penyakit yang satu ini emang ga bisa dihindari lagi. Jumlah buku yang masuk ga sebanding dengan jumlah buku yang keluar alias dibaca. Kalo sebulan bisanya cuma baca 5 buku, buku yang dibeli bisa sampe 10-15 biji. Nah, yang beginian kapan bisa selesai bacanya dong?
Karena tahu penyakit para penimbun buku ini, Mbak Maria dengan baik hati berusaha membantu kita menghabiskan tumpukan timbunan ini. syarat-syarat untuk bisa mengikuti challenge ini bisa dilihat di blog Mbak Maria
yang ini.
Untuk challenge ini ada beberapa tumpukan buku yang hendak saya bereskan, yaitu :
The Priestess of White – Trudy Canavan

Last of the Wilds – Trudy Canavan

Voice of the Gods – Trudy Canavan (ketiganya merupakan trilogi yang saya beli pertengahan tahun 2013 ini)

Pillars of the earth – Ken Follet

World without End – Ken Follet (dapet swap dari Ndari)

The Hero's Guide to Saving Your Kingdom – Cristopher Healy (sempat susah nyari ini dan mahal pula, untung di opentrolley nemu yang paperback-nya).

Insiden Anjing Di Tengah Malam Yang Bikin Penasaran – Mark Haddon

Inheritance – Cristopher Paolini

Matched – Ally Condie

If I Stay – Gayle Forman
Sebenernya rak to read saya di goodreads ada sekitar 300an judul, tapi ga semua saya punya. Jadi listnya saya bikin segini dulu. Masih ada setumpuk lagi yang belum saya update ke goodreads, hasil diskonan minggu lalu. Hehehehe...
Semoga tahun ini saya berhasil menumpas sebagian besar timbunan saya. Terimakasih banyak buat Mbak Maria yang mengerti banget tentang penyakit para penimbun buku ini dan memberi solusi untuk mengatasinya :)
2.

Mistery Book's Club Reading Challenge
Nah, novel-novel mysteri merupakan salah satu genre favorit saya. Koleksi novel misteri saya lumayan banyak, terutama karya James Patterson. Walaupun saya ngaku belum pernah baca Sherlock. Hehehehe...
Untungnya di tahun 2014 Mbak Maria mengadakan Mistery Book's Club Reading Challenge yang mengajak para pengikutnya untuk membaca novel-novel mistery. Untuk mengetahui syarat-syarat mengikuti reading challenge ini dapat kunjungi blog Mbak Maria
yang ini.
Dan uniknya di setiap bulan di buat khusus untuk satu pengarang sehingga bacaan bisa makin terarah. Berikut rincian jadwal RC ini :
Januari

: Mary Russel & Sherlock Holmes karya Laurie R. King

Februari

: Kisah-kisah misteri Charles Dickens

Maret

: Novel-Novel John Grisham

Mei

: Sherlock Holmes karya Sir Arthurn Conan Doyle

Juli

: Seri Trio Detektif-nya Alfred Hitchcock

Agustus

: Novel-novel J.D. Robb

September

: Novel-novel Jeffery Deaver
Dari daftar pengarang diatas sebagian sudah saya baca kecuali buku-buku Laurie R. King dan Sir Arthur Conan Doyle. Walau suka filmnya tapi saya tidak terlalu
minat baca bukunya, semoga setelah challenge ini selesai saya bisa bergabung dengan para sherlockian. Hehehehe...
Okeeehhh.. jadi untuk tahun 2014 udah ada 3 challenge yang bakal saya ikuti, dan sepertinya bakal nambah lagi. Makin banyak ikut challenge makin banyak bikin review! (mungkin...)